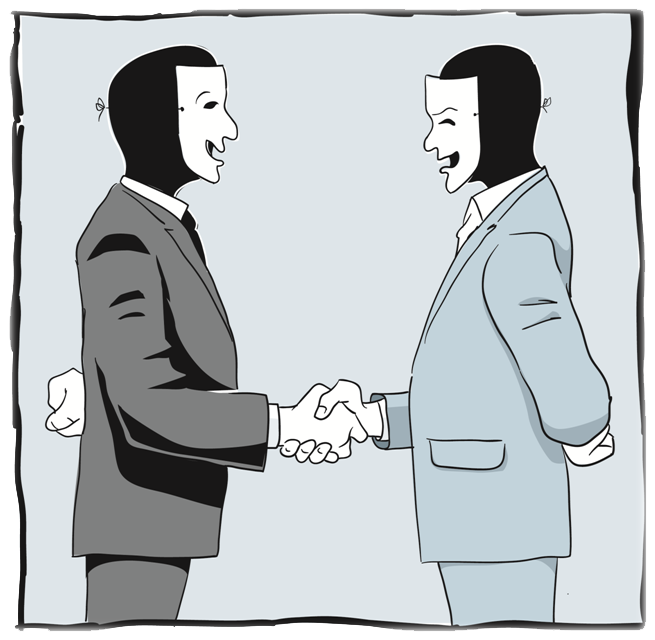 Arguably the one skill today's leaders must possess is the ability to get people to agree with them. Most assuredly, in any undertaking of significance, whether personal or business related, knowing how to get others to accept your point of view while seeing themselves as winners is crucial to your success, if not the prosperity of your organization. Indeed, one can't ever expect to ascend the corporate ladder without a sound grasp of fundamental negotiating principles and its subtle nuances or without the knowledge and skills to emulate those who consistently do it well.
Negotiating is a delicate mix of art and science, of style and substance. It prizes intuition as highly as intellect, common sense as much as the hard numbers. It requires emotional detachment, an understanding of the critical importance of process and a high aspiration level. It can be a game of power, real as well as imagined. While some people know how to play the game masterfully, others only dimly understand it.
This comprehensive program on the art and process of successful negotiating is the creation of Dr. Jim Murray who has been researching, teaching and practicing this time-honored craft over the course of five decades. Tens of thousands of people from all walks of life and professional callings have benefited from his unique, street-savvy insights, acclaimed expertise and direct, hands-on experiences in virtually every conceivable negotiating arena.
Jim's accomplishments at the bargaining table run the gamut from commercial transactions and collective bargaining to corporate acquisitions and international diplomacy, from training hostage negotiators and professional mediators to mentoring corporate CEOs, counselling big-league sports organizations and advising parents on the subtle art of dealing with troublesome teens. He has authored three best-selling books on negotiating, conflict resolution and influencing difficult people and has been nationally honoured for his effectiveness in the classroom.
This intensive, practical and highly interactive residential learning experience was designed for those who are dead serious about wanting to develop their skills beyond mere competence. You will confront questions about the process you've never even thought about before or likely can't answer if you have. Yet these questions are the ones every experienced negotiator must be able to answer. Otherwise, you lose more often than you win.
This program has a limited enrollment and sells out early – don't miss your opportunity.
WHO SHOULD ATTEND
How would you honestly assess your capabilities as a negotiator? Especially, as Jim advises: "it is the one skill that can immeasurably enhance both the quality and meaning of your life as well as the lives of those significant people on whom you depend for your happiness." Many understand the process intellectually but precious few are entirely comfortable in its execution or in their ability to consistently "optimize" deals.
If you seek a higher comfort and confidence level in your ability to get others to agree with your position, whatever that might be, or if you aspire to attain mastery, then this residential learning experience was designed with YOU in mind.
WHAT PRIOR ATTENDEES HAVE TO SAY
The best promotion we can think of is direct word-of-mouth testimonials from those who have already attended this life-altering executive development program. Here is what recent participants (with titles noted) had to say about their learning experience with Dr. Jim:
Confirmed my suspicion that I leave far too much on the table and settle much too quickly.  – VP
Provided a framework for me to recognize 'subtle' negotiating situations. – V.P.
The course will have a solid positive financial impact on my business and positive satisfaction impact for my clients. – VP
I will send other members of my senior management team to this program. – President
Gave me greater confidence to approach future business transactions, whether in the workplace or in challenging retail scenarios. – CFO
I wish I had taken this program 30 years ago. The torrent of information, savvy insights and real stories told me how I can get whatever I want.   – Consultant/Coach
Gave me the knowledge needed to build my power and be a better negotiator. – Sr. VP
Opened my eyes to my weaknesses and reminded me that everything is negotiable. – Sr. Manager
This course is similar to going golfing with a world class pro – you can't play golf as well as him but you do discover where your "game" is. – CFO
You made me acutely aware of the hundreds of dynamics and intricacies that affect me every day and your astute packaging of all of them was a stimulating intellectual exercise. – CFO
You helped me realize I am not a bad negotiator – with your theories and methods, I can now release what's inside me. – Product Manager
Provided me with invaluable insights into the behavioural changes I need to work on going forward to improve my life both at home and in the office. – Director
Dispelled the myths about negotiating and helped me to better understand 'the art of the possible.' – Sr. VP
Jim taught me more about negotiating in three days than I learned in three years at law school. – Corporate Litigator
THE BENEFITS OF ATTENDING
This executive development program addresses the role, skills and attributes of optimal negotiators in a practical, insightful manner. Upon completion, you will be much better prepared to:
Enter into any negotiation with greater comfort, confidence and competence;
Remain focused on achieving your objectives regardless of the pressures or challenges;
Project a powerful, credible and controlled presence at the bargaining table;
Engage others in co-operative problem solving aimed at mutual profit improvement;
Not become the unwitting victim of the tactics and emotional ploys used by others;
Utilize savvy advice and insights to enhance your communications in cross-cultural encounters;
Embrace negotiating as an attitude and critical life skill that will result in greater happiness, prosperity and success, however defined;
Satisfy your personal, professional and organizational needs, change attitudes, improve relationships and influence the decisions that can potentially influence your lifestyle and your future.
In addition to the Pre-course Workbook and a 100 page manual of Supplemental Notes, you will receive free copies of the instructor's best-selling books on bargaining principles and tactics, namely The Game of Life: Turning Conflict into Cooperation and The Optimal Negotiator: A Companion for Serious Deal Makers  in support of this unique learning experience.
THE CURRICULUM
The program has a different structure (order of topics) depending on where it is offered (different sponsors prefer different timelines). Evening activities typically include a team negotiating assignment, preparation for simulations, and opportunities for networking and attitude adjustment. Daily sessions run from 8:30 a.m. until almost 6:00 p.m. The format is highly practical, intense and interactive. Emphasis is placed on participation and "learning by doing." Six simulations (normally) "operationalize" the theories presented. Attention is given to personal coaching and feedback where the attendee is receptive. Participants are encouraged to share their negotiating challenges in confidence and seek advice. Attendees are expected to complete a number of preparatory readings and tasks contained in a Pre-Course Workbook prior to their arrival. The instructor is receptive to and encourages attendees to add their own topics or questions of interest to the topic outline below. Additional subjects are covered in supplemental notes and program resource materials.
The Conceptual Framework for Consistently Achieving Win-Win Outcomes
Dissecting the Jig-Saw Puzzle. Negotiating facts and fictions. Why we think we negotiate and why we actually do. Distinguishing content from process: which is more important? Core negotiator needs. The "magic" of negotiating. Turning 80/20 outcomes into 80/80 deals: making losers feel like winners. How to ascertain the needs that drive the numbers: what negotiators really want. How to disguise and discover critical information. Deciphering "last and final" offers.
Tactic Recognition and Response
The negotiating spectrum: engineering a climate conducive to achieving your objectives. Gradient stress: getting people to see it your way. Classic W/L tactics. Reasonable vs. realistic openings. Why our openings are typically so reasonable. How to respond to outrageous and unreasonable demands. Conveying a strong bargaining posture. Tactic identification and appropriate responses. Counter-intuitive tactics. Emotional ploys. The power of aspiration and objectivity. When Win/Lose works. Rudiments of Win/Win negotiating. How to use Win/Lose tactics in a Win/Win way. Creating opponents of choice. Walking the talk.
Behavioural Patterns and Cross-cultural Differences in Negotiating Styles
Gender differences and tendencies in negotiating: strengths and weaknesses. Neuroscience: applications to negotiating. Dissecting cultural differences. Typecasting for advantage. Common pitfalls. Negotiating globally: do's & don'ts. Turning cultural myopia into negotiating power. Weaknesses of Canadian negotiators. Tactical insights on negotiating with Asians, Brazilians, Arabs, Americans, and others. Building trust across ethnic lines. Understanding and translating personality types and styles for tactical insight and competitive advantage.
The Negotiating Process Simplified and Explained
Stages, key ingredients and rituals. Preparation: how to organize, set objectives, deal with blind spots and distinguish essentials from expendables. The best question(s) to ask. Determining who cares about what. How to open: what to ask, what to offer, how to connect. Framing, priming and anchoring the ask: 1st principles. Social amenities and agenda setting. How to respond to difficult openings. Achieving instant alignment and rapport. Presenting proposals for impact. Recognizing intentional and unintended signals. Overcoming resistance and dealing with objections. How to package. Bargaining nuances and maneuvers. Closing: how and when. How to evaluate your performance.
The Critically Important Principles of Time and Timing
When to ask for what you really want. Distinguishing event from process, dealing with deadlines, the importance of acceptance time and handling the pressures of the 11th hour exchanges. Artful phrasing when time matters. Framing that takes the edge off perceived confrontation. The six meanings of "No" and how to say it. When "No" is the preferred response. Preconditioning, anchoring and priming. Dealing with objections.
Power: Accumulating and Sustaining Negotiating Leverage
Myths and fallacies about power. Developing personal leverage: rational presence and psychological influence. Managing the power equation. Diagnosing the power of others. How to increase your power and when you need to decrease it. The most common way people give up the power they have. Enhancing your power at the bargaining table. Hard vs. soft power.
Using Human Behaviour to Advantage
Applications of neurobiology to negotiating. Understanding "price" as a point of view and increasing your value. Perception-reaction dynamic: getting others to do your bidding. Negative and positive interaction cycles. Establishing rapport through neuro-linguistic programming. Overcoming perceptual barriers. Masking, ego defense and role playing. Mechanisms for self-control. Functions and dysfunctions of conflict. Recognizing the signals of escalating conflict. Creating the climate conducive to achieving your objectives.
Essential (and Powerful) Communication Skills
How to acquire sensitive information: the questions you need to ask. How to ask without asking. Phrasing to induce the desired perceptions. Magical responses: disagreement without escalation. How to actually listen to get critical information. The power of non-directive responses. Translation, mirroring and "hypnosis." Reflection and deflection skills. Deciphering hidden meanings. Understanding and using non-verbal cues. Negotiating in a virtual world (Zoom and email). How to detect outright lies and deceit. How to negotiate with a liar. Smart alternatives to lying. How successful interrogators work. Selling and persuasion skills. Altering your communication ratios to get what you need to know.
Becoming an Inventive Negotiator
The power of creativity: how to price your value and change the shape of any deal. The symbiotic relationship between price and terms. Leveraging the terms as buyer and seller. Negotiating the future. Applying the problem-solving mode to break impasse. Dealing with salary negotiation phobias. Assessing appropriate strategic and tactical responses. How to make seemingly impossible deals. How to deal with job offers, get more in your salary negotiations and what to do/say when you do get the job. Beyond creativity: avoiding the pitfalls and barriers to good deals.
Working and Negotiating in Teams
Individual vs. team: strengths, limitations and nuances. When and how to use a team. Determining appropriate team size, roles and responsibilities. Optimizing your team's strengths. Planning and working as a team: a practicum. Tactic recognition and response. Analysis and assessment of individual and team performances.
Optimal Negotiator Fundamentals and Attributes
What happens when it's for real: The difference between theory and reality. When NOT to negotiate. Essentials of a good strategy. Why human nature will give you the best deal possible. The things you should never do. The most important skill you must learn to succeed. Attributes that define consistently successful ("optimal") negotiators. The pros speak: critical skill sets and thought processes of winning negotiators. The conceptual framework summarized. Closing thoughts and valuations. Achieving mastery – where to from here?
This program will be offered twice in 2019 (in Ontario and B.C.). It is open to the general public. Check dates and places for the timing in 2020.